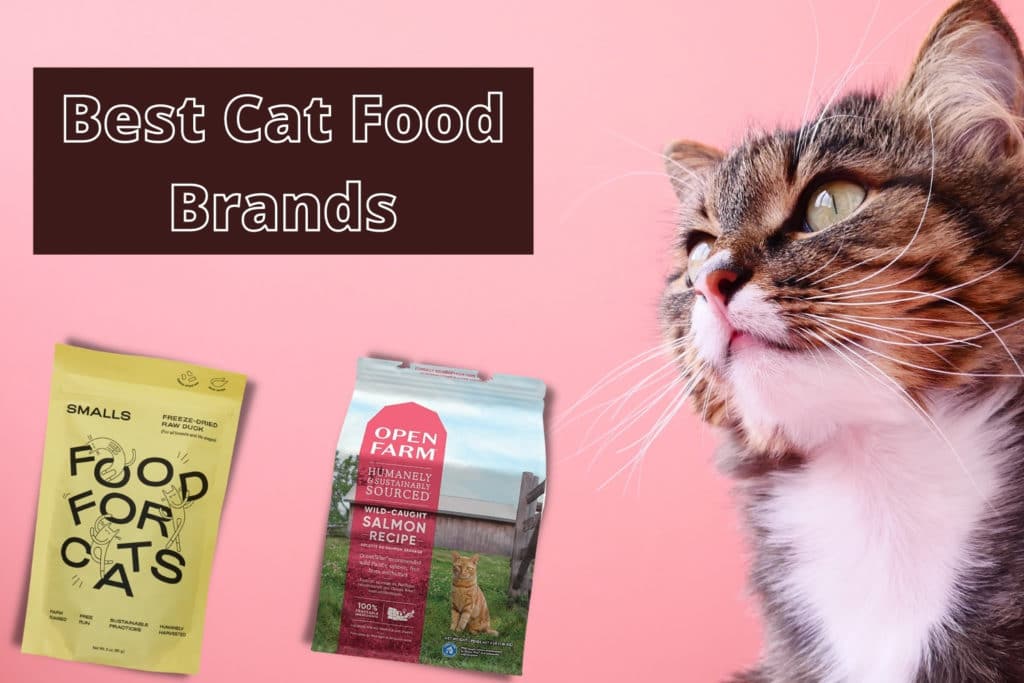 You'll find cat food aplenty wherever you go, but is it good enough for your little munchkin?
Your precious feline deserves the very best in the world. You've supplied it with the plushest toys, the softest beds, and water fountains that put actual fountains to shame. But food is where you have to be careful.
Whether it's the cheapest food or the most expensive, you can't always be sure whether the brand delivers upon its promise of quality. Diet makes all the difference for your cat's health, happiness, and longevity. That is the reason we make a list of best cat food brands to make selection process easy.
Before you buy any food your cat may like, you must do extensive research on the best cat food brands—dry and wet—that would be able to offer everything your cat's body desires.
Product prices and availability are accurate as of the date/time indicated and are subject to change. Any price and availability information displayed on [relevant Amazon Site(s), as applicable] at the time of purchase will apply to the purchase of this product.
Prices pulled from the Amazon Product Advertising API on:
Our experts recently updated the list of best cat foods for indoor cats which are trustworthy and entrusted by veterinarians.
What Did We Look For In The Best Cat Foods?
When we researched, we looked for food that provided all essential nutrients that cats need for a healthy, long life.
These essential nutrients include:
Protein (Could be meat, poultry, or fish)
Taurine (Essential amino acid)
Vitamins, enzymes, minerals, and fatty acids
Water
Unlike humans, cats don't require grains and carbohydrates through corn or rice. They also don't need any artificial flavors or coloring.
The food we chose for our cat foods tick all the right boxes, whether dry food or wet food. Our foods consist of canned and dry food, but none include fillers, binders, or coloring. These also only use necessary preservatives. Anything else takes them off the list.
For your cat, even if you don't refer to the list below, you must look for food that offers all the necessary nutrients listed above so your cat does not experience any untoward health issues.
Top Three Best Dry Cat Food Brands
1. Dr. Elsey's Cleanprotein™ Grain-Free Dry Cat Food
Although slightly expensive than your average bag of dry cat food, what makes Dr. Elsey's kibble the best dry food for cats is its ingredient base. Along with being a grain-free cat food, this kibble does not contain any potatoes, legumes, or plant ingredients.
The main goal for Dr. Elsey's clean protein food was to keep the carbohydrate content less than 10 percent.
As such, this grain-free kibble uses good ol' fashioned gelatin as a binding agent. That makes this kibble one of the only cat foods that have low carbohydrates but is still healthy.
Alongside, the recipe uses chicken as the main ingredient, as well as egg and pork protein. What you get is dry kibble that's not only yummy and easy-to-digest but one that offers the right amount of protein too.
2. Smalls Simply Cooked Kibble
Smalls is a premium brand that's significantly more expensive, yet their food quality and benefits make up for the cost.
If you have a smaller cat who needs to gain weight, Smalls is the best choice because of its calorie-dense quality. It's also good if your cat is finicky and has specific tastes in food.
Smalls offers three flavors. All of their food is made with human-grade ingredients.
However, they add ingredients such as peas and sweet potatoes to their kibble, which isn't the obvious choice for your carnivorous four-legged friend. But, considering that these ingredients allow it to be a low-carb food, most cat owners don't mind.
Smalls also offers homemade fresh food as well as freeze-fried meals. You can get all these meals and kibble by subscribing to their delivery service, which offers a customizable schedule and a variety of other meals.
It's all on you to choose which food would suit your cat's needs the most.
Once you're done, you'll get the meals as per the schedule, and you won't have to worry about your cat's food quality ever. What's even better is that their main ingredient list includes a range of supplemental ingredients such as digestive enzymes, prebiotics, probiotics, and fish oil.
3. Open Farm Wild-Caught Salmon Dry Cat Food
Open Farm is an ethical brand, meaning that all its ingredients are ethically-sourced. So, you know you'll be getting the best ingredients for your cat's palette.
The recipes for all Open Farm meals specify the use of animal-derived protein. Specifically, their salmon dry cat food has received rave reviews for its flavor and quality.
For the dry salmon food, their recipe includes ocean whitefish meal, salmon, and herring meal.
As a grain-free food, this dry kibble also contains legumes and plant-based ingredients. Although it makes carbohydrates a bit higher, it's still an excellent option for your resident carnivore.
Open Farm food also works as a healthier option if you're worried about your cat being exposed to any chemicals or preservatives. The brand uses humanely-raised meat, fish, and poultry. Their fish is also sustainably harvested and wild-caught.
Open Farm is a far more eco-friendly choice than any other brand. However, high carbohydrate levels may be a problem for some cat owners.
Top Three Wet Cat Food Brands
1. Ziwi Peak Cat Cuisine
If your cat is used to the finer things in life, then Ziwipeak is the best choice.
As a gourmet brand for canned cat food, their food ticks all the right boxes in flavor, nutrition, cost, and overall experience. Ziwi Peak is an ethical brand, so all its ingredients are sourced through sustainable methods.
Their processes are also subject to strict quality standards, so you essentially get the best for your money's worth.
This New Zealand-based brand is new. However, Ziwi Peak has skyrocketed in popularity because of its ethical standards and product quality. Ziwi Peak is dedicated to providing its target market with food that speaks to them. In other words, meat-based food.
Ziwi Peak cat food uses fresh meat, seafood, organs, and bone to create a healthy meal. As such, none of their food includes any additives or fillers.
We recommend the lamb recipe for anyone new to Ziwi Peak since it is made using free-range, grass-fed lamb free from antibiotics and growth hormones. With its meaty, juicy flavor and texture, your cat will lick their plate clean.
2. Iams Delights Cat Food
Contrary to popular belief, cats do become bored if they eat the same food every day. Change up their diet with Iams Delight cat food!
Iams food, specifically their land and sea collection, has a huge fan following, and for a good reason. Their food collection contains a wonderful range of options, such as salmon and trout, wild tuna and herring, lamb and liver, and roast turkey and duck.
With an ingredient list that's chockfull of essential nutrients like taurine and biotin, Iams food doesn't just fill your cat's belly; it works to keep their skin and coat healthy and their heart and vision in optimum health.
Add that to the selection of minerals and vitamins, and you have yourself a product that's a full course meal in one.
We recommend that you feed your cat with the appropriate amount and not use the complete pouch. Although the food has never been recalled, there have been some complaints of cats getting upset stomachs after having a big meal.
If you suspect that your cat has a sensitive stomach, you'll want to start them off using smaller portions.
Also, unlike the other options we've listed above, Iams, unfortunately, does add animal by-products in their food. If you support ethical and sustainable brands, this one might not fit your ideals.
That being said, if you want an affordable multipack that's delicious, you can't get any better than Iams.
3. Purina Beyond Grain-Free Cat Food
You can't write about the best cat foods without adding Purina to the list.
As one of the most trusted brands in the market (despite its recall history), Purina offers a brand new wet food option that's free from a range of allergens and comes with an affordable price tag.
Purina's Beyond cat food line includes some classics such as salmon, chicken, and organ meats. But Purina has gone one step further this time and added hearty doses of spinach and a bucketload of nutrients including amino acids, calcium, and omega-3 fatty acids to the mix.
Purina is also a great brand because it lacks any fillers that you might otherwise find in your regular tin of cat food.
The food is also made with human-grade products that are humanely and ethically sourced, so you'll be supporting an ethical brand while feeding your cat the best food ever.
Yet, there are some complaints that there are no probiotics and chelated minerals in the food. But considering the nutrients and vitamins that make up the food, these complaints are minor compared to the benefits.
Best Cat Food Brand for Kittens
While you can feed your cat kitten food, you can't feed your kitten cat food. And that's because kittens—because of their small size, fragile health, and stature—need more sustenance and nourishment than an adult cat.
Kittens also cannot eat the chunkier meals that cats devour in minutes. That's why most kitten food will include a laundry list of healthy fats, protein, and carbohydrates that keep the kitten healthy and well-fed. Here are the two best kitten foods in the market:
1. Royal Canin Kitten Food
Royal Canin is as popular as Purina in terms of quality and flavor.
The brand is highly respected in veterinary circles because of its specialist formulas. The Royal Canin kitten food, in particular, is precisely what every healthy cat needs.
Their kitten food is formulated to provide kittens with wet and dry food, so they get a bit of a crunch with each bite. The food is sliced small to make it easier to chew, allowing kittens to transition more easily to solid food.
The food is also full of proteins, fats, carbohydrates, and all the necessary ingredients you would need to help the kitten grow healthy and strong.
The Royal Canin food is an ideal choice for healthy kittens, but you can also give it to cats and kittens with digestive issues and sensitive stomachs.
Keep in mind that Royal Canin is not cheap. However, it doesn't cost an arm and a leg either. The brand leans on the affordable side of the scale, so as long as you use the food wisely, your kitten and your wallet will remain happy.
2. Applaws Tuna Wet Kitten Food
Some brands make promises about providing the complete meal for kittens and others who deliver. Applaws is from the latter group.
The brand's entire image centers on using essential ingredients that cannot be tempered. All meat is human-grade, so there's no risk of colorings, preservatives, or artificial flavors.
If you check their tuna kitten food, you'll find only three ingredients listed: fish broth, tuna fillet, and rice.
However, unlike other cat food, Applaws no-nonsense sense of business works against them because it doesn't provide everything that a growing kitten needs. There are no added nutrients, supplements, or vitamins.
What you see is what you get. As such, if you're thinking of using Applaws Tuna kitten food as a staple, think twice. Instead, treat this meal as a gourmet treat.
It also doesn't help that Applaws is a little more expensive than usual. Regardless, if you provide your cat with additional supplements and just need something to keep their stomach happy, Applaws is a great choice.
Frequently Asked Questions
Q.1: What Ingredients are Harmful to Cats?
In general, cat food should not consist of any toxic ingredients. However, there are some preservatives and additives that some companies use that can be harmful. These include:
BHA (butylated hydroxyanisole)
Caramel coloring
Carrageenan
Cellulose
Glucose/dextrose
Iron oxide
Glyceryl monostearate
Garlic
Bone and meat meal (Rendered product from any mammal tissues)
Meat by-products
Q.2: Can I Mix Dry Food and Cat Food from Different Brands?
No law says you can't mix dry and wet food, even if it is of different brands. That may make things easy for your car if they have any dietary issues or sensitive stomachs. Veterinarians often recommend customized plans that combine different foods to target each particular cat's metabolism.
Q.3: What if My Cat Stops Eating a Type of Food?
The chances are that your cat might just be bored. Like humans, cats like to have variety when it comes to food. If you see your cat losing interest in their daily meals, change things out and give them another type of food for a while. Mix dry with wet food. Experiment with different proteins. Or better yet, try your hand at homemade food. You never know what you might make.
Q.4: Do cat food labels have any helpful information?
Yes, they do. When searching for good cat food, always look for a guaranteed analysis, nutritional adequacy statements, and the net weight. You'll also find the ingredient list on the side and feeding directions. All this information will guide you well in deciding whether that food will work according to your cat's needs and diet.
You might also like to read about the best non prescription cat food for urinary crystals and if your furbaby is a picky eater then choose a best tasting cat foods aside from these we also recommend you to visit best cat food for firm stool, so you can get a highly consumable food.
While on the other side our experts make a separate list of foods for hyperthyroidism in furkids and please also check out our list of cat food bowls that are cost-effective and made with non-toxic materials.
Wrap Up
If you own a cat, you know how finicky they can be when it comes to food. They are also picky eaters, which means that if your furry friend doesn't enjoy the taste of their meal or its consistency, chances are they won't want to eat it either.
That's why many experts recommend opting for wet food instead of dry kibble because cats seem to prefer the former more often than not.
No matter what type of diet your fur-baby prefers–be it grain-free cat food with all-natural ingredients or vegan pet foods–you should always read labels carefully before purchasing anything to avoid any unwanted surprises down the line.