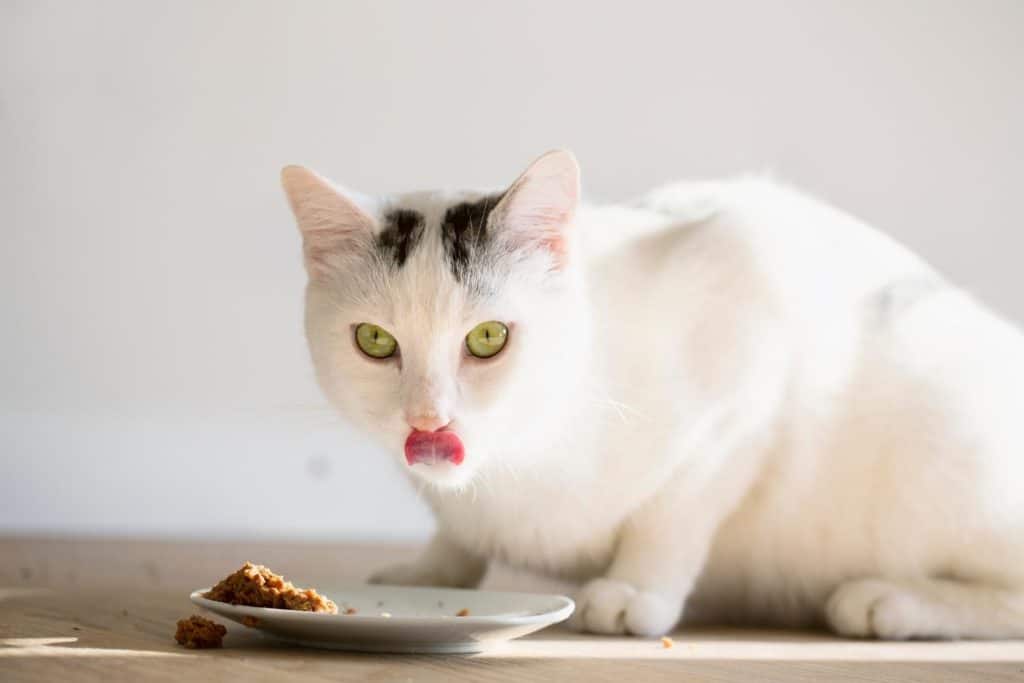 Cats love to eat commercial kibble, and it's a perfect way to provide required nutrients to a cat. However, there are some homemade cat food recipes that you can make for your little friend. These recipes have been vet-approved and will help keep your kitty healthy and happy.
But before moving to homemade cat food, you need to understand it requires more work than commercial food, and you need to follow a routine.
There are many benefits of homemade cat food. The recipes we will provide are low in carbohydrates and high in protein. They are also grain-free, which is great for cats who are allergic to grains or have digestive problems. Additionally, the recipes below include plenty of moisture, which is important for cats' overall health.
The recipes are simple to follow and only require a few ingredients that you may already have in your kitchen. So, let's get started!
Our experts recently make a list of the best cat foods for shedding, so if you are dealing with shedding it can be a great help.
(1) Chicken Thighs with Bone and
Ingredients:
5 pounds chicken thighs with bone
200mg vitamin B complex
200 IU vitamin E
1 ½ tsp lite iodized salt
4 tsp psyllium husk powder (optional)
7 oz. raw chicken liver
14 oz. raw chicken heart
8 oz. bottled spring water
4 raw egg yolks
2,000mg taurine
4,000mg wild salmon oil
Instructions:
Remove the outer layer from half of the chicken thighs, but not the fat.
Remove 20% to 25% of the chicken thighs bones and wash the flesh with water.
In a small dish, combine the dry supplements and thoroughly mix them together.
Add the egg yolks and water to a blender with the salt. Whisk in until smooth.
Chop the chicken liver, heart, and thigh meat.
Place a bowl beneath the meat grinder and feed the contents through.
Add the liver, heart, and fish oil capsules at regular intervals.
Combine the ground mixture and the slurry with the psyllium husk powder in a large mixing bowl.
Remove half of the mixture and place it in a container for future use. If you're not planning on eating or cooking the leftovers right away, chill or freeze them.
This recipe will be yield around 11 cups of wet food.
(2) Cooked Rabbit & Poultry Recipe
Ingredients:
2 to 2.25 pounds whole carcass rabbit
10,000mg fish oil
400 IU vitamin E
50mg vitamin B complex
2,000mg taurine
1 tsp lite iodized salt
75 to 1 pound boneless chicken or turkey thighs
1 cup water
2 eggs (raw yolk, white slightly cooked)
Instructions:
The rabbit carcass should be ground, and the chicken pieces should be chopped into small pieces.
Leave 50% of the meat raw when baking chicken or turkey thighs at 350°F for 15 to 20 minutes.
Combine the dry supplements in a small mixing dish and mix thoroughly.
Combine the flour, baking powder, salt, and fish oil in a mixing bowl. Whisk in the egg yolks and water until smooth to make a slurry.
Transfer the ground mix to a large mixing bowl, then add the slurry.
Refrigerate or freeze the entire mixture after making small portions.
(3) Cooked Diet for Healthy Cats
The following feeding recipe, from the MSPCA-Angell Animal Medical Center, is for a day's nutrition of a 12-pound adult cat with no medical issues.
Use a dietary gram scale to measure foods until you get used to precise measurements, and make sure all ingredients are combined adequately before serving. Between meals, the meal must be refrigerated or frozen, and for the sake of taste, it should be warmed before being served to your cat.
Mix together:
Cooked dark meat chicken, beef, pork, lamb, salmon, or tuna
Mix carbohydrates – White rice, oats, barley, corn, peas, and pasta are examples of carbohydrates.
Fiber: cooked sweet potato, without skin (30 grams or 1/5 cup)
Fat (optional): vegetable, safflower, olive oil or fish oil (1/4 teaspoon)
Balance IT Feline: 2.7 grams or half a red scoop (in the container). It is a commercial blend of vitamins and minerals.
It provides total daily 340 calories but bears in mind the calorie content will differ depending on the type of meat used. For example, poultry and fish are leaner meats and will contain fewer calories than red meats.
The carbohydrate and fiber content will also vary depending on the type of grain used. White rice has a higher carbohydrate content than brown rice, for example. Cats need taurine, an amino acid found in animal tissues, so be sure your cat's diet contains some animal-based proteins.
Cats are carnivores and need a diet that is high in protein and low in carbohydrates. A homemade diet can meet these nutritional needs if it is carefully balanced.
(4) Kitty Breakfast¹
Ingredients
1 tablespoon nonfat dry milk
3 medium eggs
3 tablespoons cottage cheese
2 tablespoons veggies (grated)
Instructions
Combine the milk powder and a tiny quantity of water.
Add the eggs and mix thoroughly.
Pour the sauce in a small non-stick frying pan and simmer on low heat until thickened.
Turn the omelet over like a pancake, lay the cottage cheese and vegetables on half of the cooked surface, then fold it like an omelet. Allow cooling before serving.
(5) Almost-Spot's Stew
Ingredients
1 whole chicken
2 cups brown rice
6 stalks celery
8 carrots
3 yellow squash
2 or 3 zucchini
1 small broccoli
Handful green beans
Instructions
Cover the chicken with water in a large stew pot after washing.
Cut vegetables and add to pot.
Now its time to add rice.
Cook until chicken almost falls off the bone and vegetables are tender.
Completely debone the chicken.
Pour the cooking liquid into a blender and purée or chop until the mixture is coarse.
Place the fish in freezer bags and seal them.
(6) Chicken Diet
471 kcal, 53.1 grams protein, 27.4 grams fat, and is intended for a healthy cat or growing kitten
Ingredients
1/2 pound chicken breast – cooked
1/2 large egg – hardboiled
1/2 ounce clams – chopped
4 teaspoons canola oil
1/8 potassium chloride
3 bonemeal tablets
1 multi-vitamin tablet
Instructions
Chop the chicken breast and egg.
Crush the bone meal and vitamin tablets finely, then combine all ingredients.
Refrigerate, then warm slightly before serving.
(7) Tuna Diet
Ingredients
4 ounces tuna
1 egg – hard-boiled and chopped
1 tablespoon canola oil
2 bonemeal tablets
Instructions
Mix all ingredients well, and serve immediately, or refrigerate and warm slightly before serving to "take the chill off.".
(8) Chicken Brown Rice With Vegetables
The first one, chicken brown rice with vegetables, is a wonderful kidney disease diet for cats that weigh five kilograms or more. This dish is high in nutrients and suitable for cats weighing up to five kilos. You may try it out in small amounts at first and see how it goes before incorporating it into your cat's diet on a regular basis.
IngredientsQuantity
Brown Rice50-60 grams
Chicken Breast50 grams
Carrot/Peas30 grams
Calcium Carbonate1gm
Taurine–Olive Oil1 tablespoon
Instructions:
Brown rice, carrots/peas, and sweet potatoes are all options. You may also include sweet potatoes. Furthermore, you may replace brown rice with other cereals such as barley or quinoa. However, the procedure for cooking them is identical to that of brown rice.
Finally, boil the chicken. After it has been cooked thoroughly, remove and shred it into smaller pieces. There should be no large chunks of chicken remaining. If your cat likes beef, you can substitute it for chicken in equal quantities.
You may combine cooked rice, vegetables, and chicken with olive oil, calcium carbonate, and taurine after they've been combined. The amount of taurine your cat requires varies based on the species.
You can offer this food with normal cat food or in small amounts for the first time.
(9) Chicken White Rice With Supplements
Following that, we have a similar recipe to the previous one. However, this dish includes additional ingredients and supplements.
IngredientsQuantity
Chopped or Ground Chicken Breast30-40 grams
White Rice130 grams
Omega-3 Fish Oil1 tablespoon
Potassium Chloride1/8 teaspoon
Calcium Carbonate
1gmTaurine
Instructions:
Boil white rice and chicken breast. Cut the cooked chicken into tiny shreds once it's done.
Finally, mix all of the other ingredients together thoroughly. Then, consult your veterinarian about how much taurine should be in your cat's diet.
Allow the food to cool before serving it to your cat after mixing. It may be served with your cat's regular diet or in little amounts on its own.
Protein metabolism and the metabolic by-products of protein digestion can be affected by a deficiency in healthy supplements such as omega-3 fish oil.
(10) Tuna Brown Rice With Vegetables
The third option is seafood. It's a simple dish to make that is healthy and delicious. The combination of tuna and rice will appeal to your cat. Apart from that, there are vegetables in the recipe as well.
IngredientsQuality
Brown Rice50 grams
Fresh Tuna50 grams
Carrots/Peas30 grams
Olive Oil1 tablespoon
Taurine–Calcium Carbonate1gm
Instructions:
Boil rice and veggies in a large saucepan. Add any cat-friendly vegetables, minus carrots and peas, to the boiling water.
Combine all of the ingredients — tuna, vegetables, olive oil, taurine, and calcium carbonate — after the rice has cooked. Mix thoroughly and make sure they're tiny enough for your cat to eat without difficulty.
Taurine may be administered under veterinary supervision.
Do not use canned tuna in your recipes, as it generally contains a lot of salt and additives. And because we're talking about kidney disease diet ideas, we can't have too much salt.
Why Homemade Cat Food?
Most commercial diets have the correct ratio of nutrients for animals of different species, ages, and nutritional requirements.
Crafting your own delectable cat food takes some planning and studyYouoisture) and protein (lWhen processing kibble in a quality cat food-type food. The food in a kibble-type diet for cats can lose nutritional value during processing, resulting in insufficient hydration.
Your cat is an obligate carnivore, like dogs, and requires nutrients to, Therefore, your Therefore, your cat will require amino acids such as EPA, CLA, GLA, LA, DHA, and Omega-3s.
These are all amino and fatty acids that can be found in meat. You may add a little oil from safflower, fish, chicken, or liver to your recipe to give it a little extra flavor.
Toxic Food Sources to Avoid
There are things that you should never offer your cat because they are poisonous or harmful to them. The following items should not be included in your cat's diet:
Uncooked or frozen meat
Raisins and grapes
Onions and garlic
Tomatoes
Xylitol, a sugar substitute
Nuts
A diet consisting of too much corn, rice, wheat, or other carbohydrates
You Might Also Like to Read:
Is It Easy to Transition from Commercial Kibble to Homemade Cat Food?
The transition from dry to wet food will likely take a few days. First, try mixing in a little of the homemade cat food with their current diet.
Increase the amount of homemade food by a little bit each day until you reach about 70% of your cat's diet, which should be done 10 days to a week.